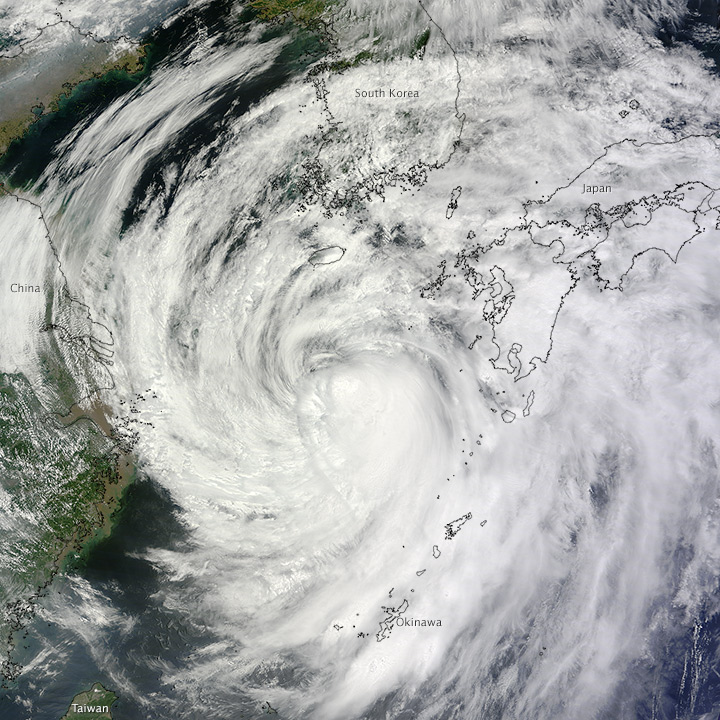 Typhoon Neoguri pounded Okinawa and other Western Pacific islands with torrential rain and damaging winds in mid-July 2014, en route to a likely landfall in Japan. The Visible Infrared Imaging Radiometer Suite (VIIRS) on the Suomi NPP satellite captured a nighttime image of the storm at 2:07 a.m. Japan Standard Time on July 9, 2014 (17:07 Universal Time on July 8). At the time, Neoguri was a category 2 typhoon moving through the East China Sea.
The storm was imaged by a special "day-night band" that detects light in a range of wavelengths from green to near-infrared and uses light intensification to detect dim signals. The instrument can sense light as much as 100,000 times fainter than conventional visible-light sensors, making it very sensitive to moonlight and city lights. In this case, the cloud tops were lit by the nearly full Moon.
The Moderate Resolution Imaging Spectroradiometer (MODIS) on NASA's Terra satellite captured a natural-color image of Neoguri at 11:30 a.m. local time (0230 Universal Time) on July 9, 2014. Read more
Terra MODIS image by Jeff Schmaltz, LANCE/EOSDIS Rapid Response. Caption by Michael Carlowicz.