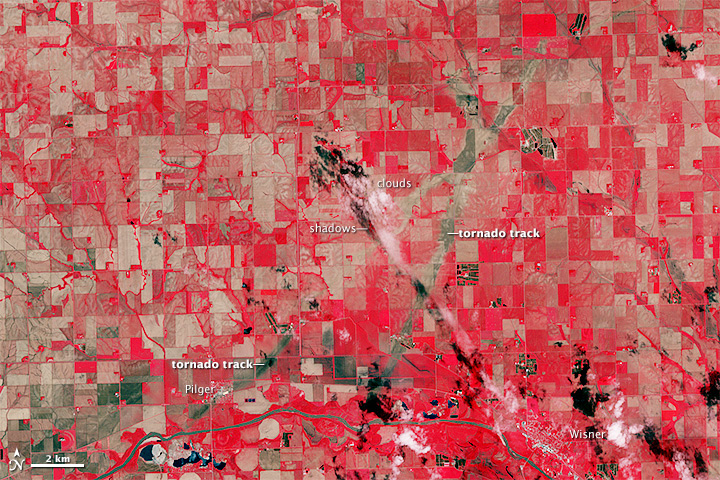 On June 16, 2014, a tornadic thunderstorm system moved across portions of northeast Nebraska, producing 5 tornadoes. Four of the tornadoes were rated as EF-4 on the Enhanced Fujita Scale, meaning that they were violent tornadoes with winds between 166 and 200 miles per hour. One EF-4 tornado spun directly through Pilger, Nebraska, a small town of 350 people, leveling much of the town.
The Advanced Spaceborne Thermal Emission and Reflection Radiometer (ASTER) instrument aboard NASA's Terra satellite captured the top image of northeast Nebraska on June 21, 2014. Two of the EF-4 tornado tracks are visible in the false-color image (near-infrared, red, green). The tracks are tan paths of bare ground across plant-covered fields, which are red. The towns of Pilger and Wisner are bright white. The lower image, also from the ASTER instrument, shows the region on July 4, 2013. Turn on the comparison tool to contrast the before and after views. Read more
NASA Earth Observatory image by Jesse Allen, using data from NASA/GSFC/METI/ERSDAC/JAROS, and U.S./Japan ASTER Science Team. Caption by Kari Beckendorf and Holli Riebeek.