Terra explores the connections between Earth's atmosphere, land, snow and ice, ocean, and energy balance to understand Earth's climate and climate change and to map the impact of human activity and natural disasters on communities and ecosystems.

---
Terra News Features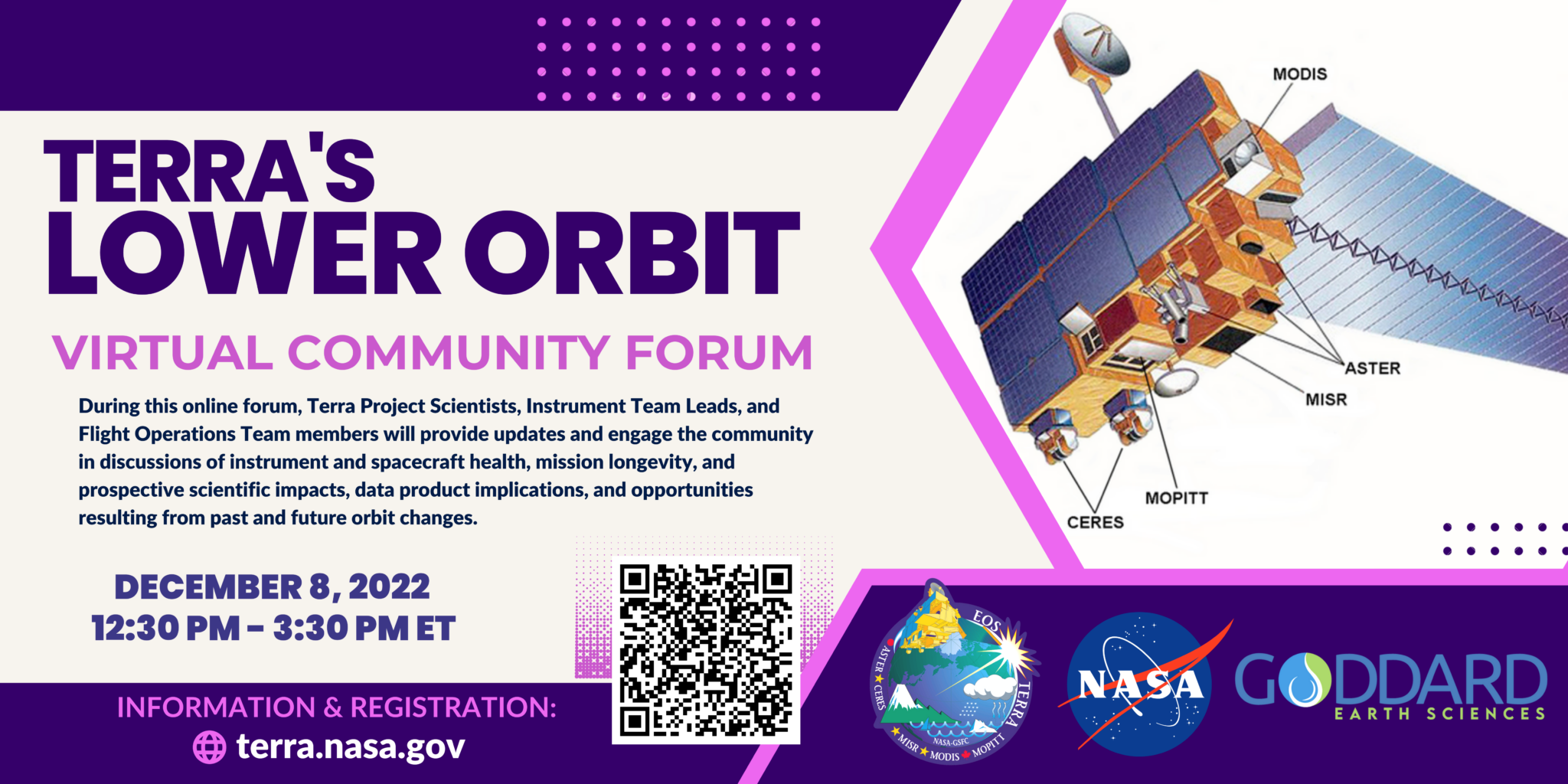 Information on Terra's Lower Virtual Orbit Community Forum and Registration QR code (click on graphic for registration page)
The Terra Flight Operations Team is planning a set of orbital maneuvers for October 12 and 19 to lower Terra's orbit by 6 km, as part of an effort to reduce orbital crossings with several other missions currently at Terra's 705 km altitude. For more information, view the graphic below, which is also available on the Terra website.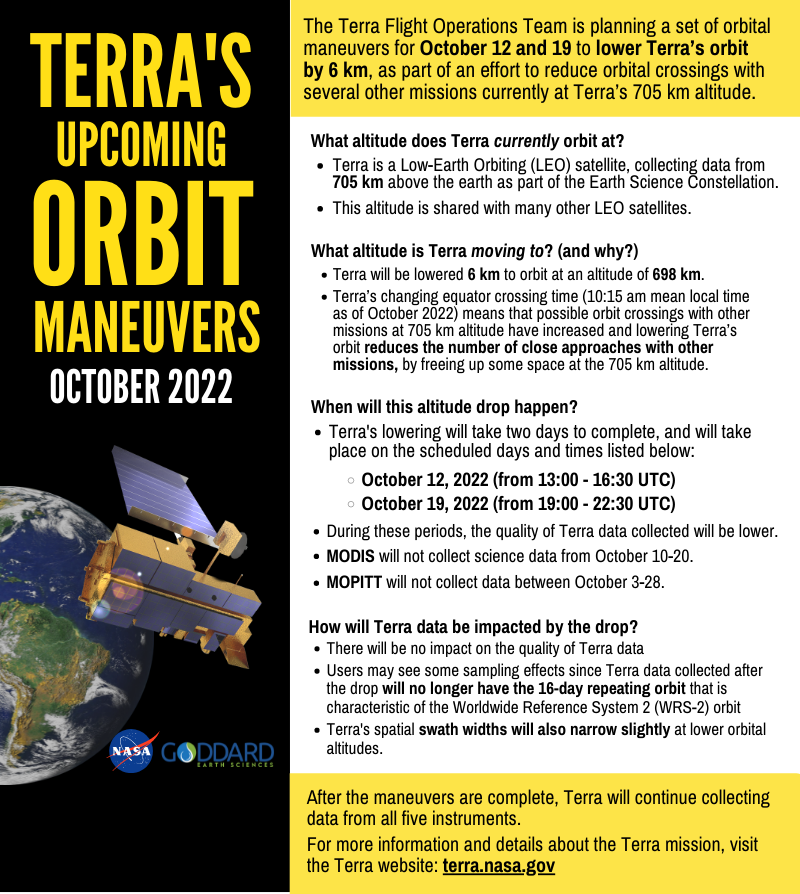 NASA previously released a Request for Information (RFI) on a Terra, Aqua, and Aura Drifting Orbits Workshop, for which the response date is October 11, 2022. (see animation above) The Terra, Aqua, and Aura Drifting Orbits Workshop will be held virtually on November 1-2, 2022. For more information and to register, scan the QR code from the graphic below, or visit the Terra website.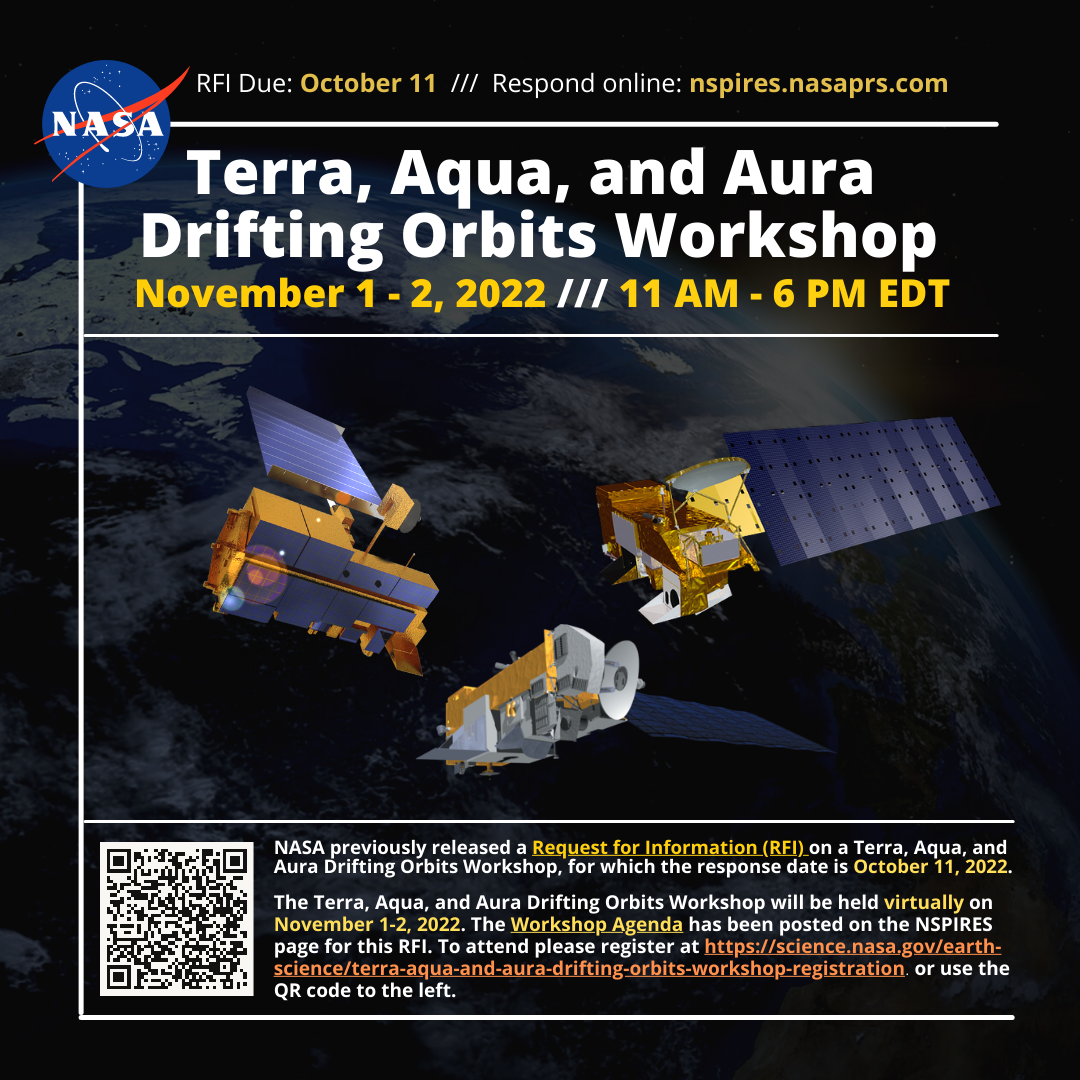 After more than 20 years orbiting at 705 km above Earth's surface and routinely crossing the equator at approximately the same time every day, Terra is now drifting. With no maneuvers planned to sustain Terra's altitude and crossing time, Terra will slowly get closer and closer to Earth – crossing the equator earlier and earlier as time passes. However, despite impacts to some of Terra's nearly 100 data products, Terra's five sensors continue to collect meaningful scientific data, producing one of the longest continuous climate data records collected by a satellite. Read more…
There is no question that technology has changed. But, at the same time that our lives on Earth were being shaped by our access to technology, 705 kilometers above us, a satellite was changing how we understood our planet.
For 20 years, Terra, the flagship Earth observing satellite,
has chronicled changes on Earth. Designed and built in the 1980s and 90s, NASA and Lockheed Martin engineers set out to build a satellite that could take simultaneous measurements of Earth's atmosphere, land, and water. Its mission – to understand how Earth is changing and to identify the consequences for life on Earth. Season after season, Terra data continues to help
us understand how the evolving systems of our planet affect our lives – and how
we can use that data to benefit society. Read more and find resources from our anniversary events, Terra 20 Events