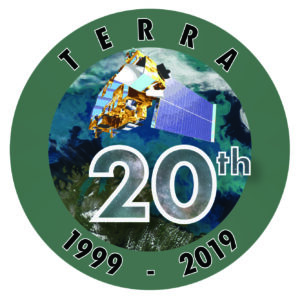 Twenty Years of Terra 20
On December 18, 2019 Terra was officially in orbit for 20 years. 20 years of scientific data that has shaped our knowledge of Earth today. There were multiple events where people gathered to recognize the accomplishments of Terra and the people who made it possible over the past 20 years. Presentation slides and photos from the programs can be found below.
Terra memories slide show
This slideshow highlights quotes from the scientists and engineers that contributed to Terra's success and was played in the background during the December 8 program, while people gave talks and shared stories. It was also played during the opening of the other events in Greenbelt.
Terra 20 AGU Program (December 8, 2019)
On the Evening of December 8, 2019 stories of Terra were shared and a dinner followed on December 10, 2019.
Terra 20 at Goddard Space Flight Center (December 18, 2019)
Presentations
Terra 20 Dinner (December 18, 2019)
Presentations
Photos from Terra 20