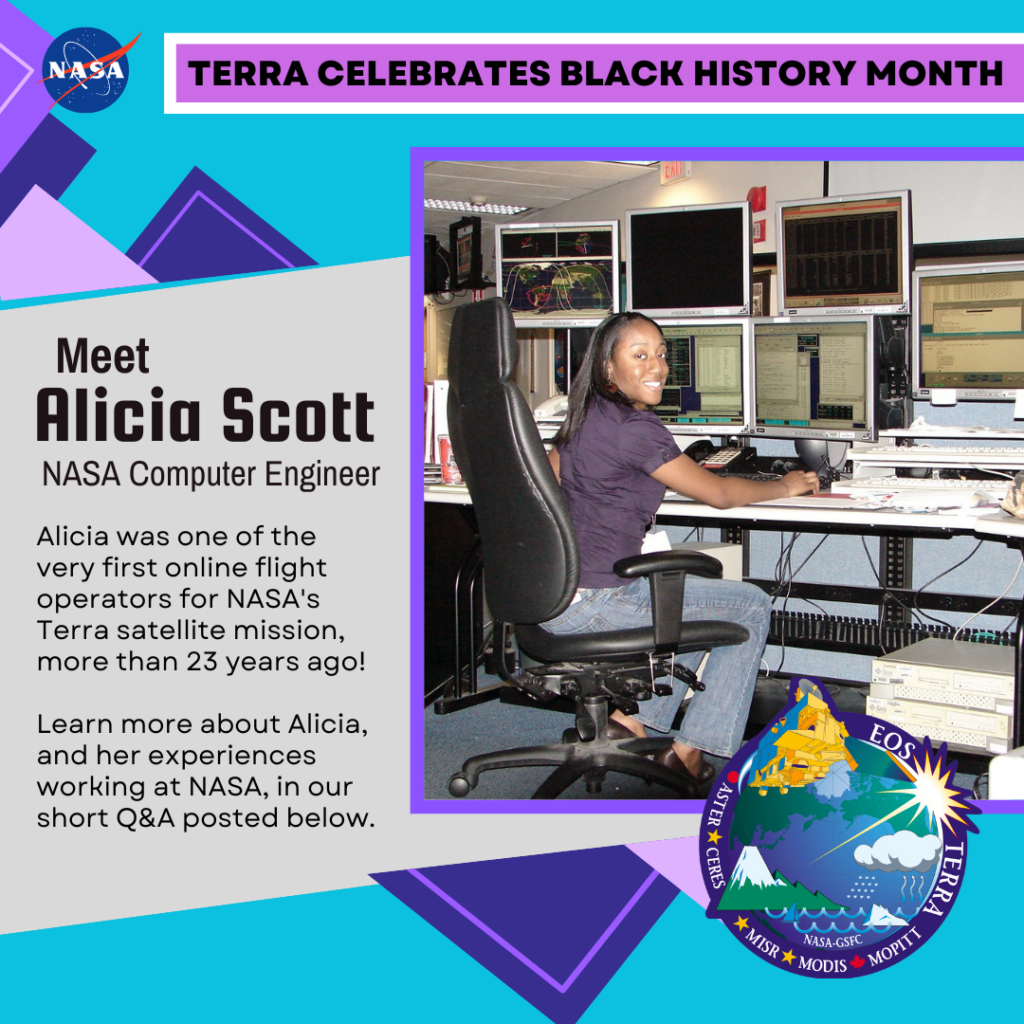 Who or what inspired you to get your master's in computer science?

My parents always encouraged me and my siblings "not to work as hard" as they did, so I felt like getting a college degree was necessary to ensure more financial freedom than they experienced. I like puzzles and knew that computers would be essential to the majority of careers in the future so I knew computer science was a secure option.

What was it like being one of the first computer programmers to work on the Terra mission?

Well, I was an online operator responsible for commanding the Terra spacecraft through daily operations, quality of data transmitted from the ground stations and working with engineers during anomaly recovery. There was no programming necessary for that position.

The titles I had were Command Controller and Mission Planner. As the Command Controller, I was responsible for sending commands directly to the Terra spacecraft to ensure daily operations, communicating with the White Sands Ground Station to conduct passes where the spacecraft downloaded data to the ground, and performing quality control of data received. As the mission planner, I was responsible for generating and verifying the actions and timing of commands in the file uploaded to the spacecraft over a period of several days.

How did your work on the Terra Mission shape the rest of your career at NASA?

I learned a lot about the importance of reliability and attention to detail. Additionally, it allowed me to see how many groups of people it takes to run a successful mission and understand how distributed all these groups of people are, which lead me to understand the importance of building relationships and efficient communication. These are all skills and information I have been able to apply to perform duties on subsequent projects.

How has the field of computer science changed since you worked on Terra back in the early 2000s?

It has changed so much since then! When I was graduating with my degree, we had maybe a handful of popular programming languages. That has ballooned into more than I can count, so keeping up with the latest advancements has been challenging. Also, the idea of cloud computing has reached us and is underway at our agency. This revamps our on-premise system architectures and how we will design tools to be optimized for the cloud.

How has your identity, as a Black woman, shaped your work at NASA? Were there specific challenges or support systems that you experienced along the way?

I have been fortunate to have never experienced direct disadvantages due to my race during my career at NASA. Rather, I feel it has been really hard to be seen and respected as a woman here. I believe that honest efforts are being made to eliminate those issues in this new age of breaking down barriers and aggressively improving paths to inclusion and diversity.

What's one piece of advice you would give to young Black scientists who want to pursue a computer science career at NASA?

Please apply! You have a valuable perspective, drive, and dynamic that is needed to keep NASA growing in its innovative offerings, engineering advancements and scientific discoveries. A diverse workforce provides introduction of new ideas, deeper consideration for societal impact and a more grand final product. When we all work together a better future is realized.

Special thanks to Alicia Scott for sharing her story!