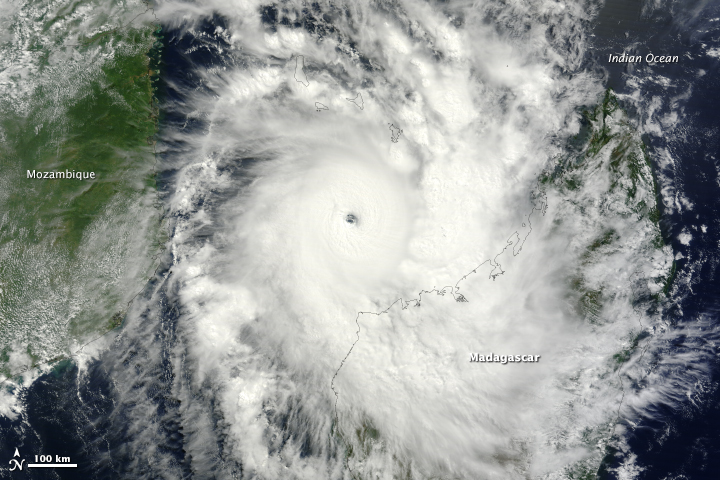 On Sunday, March 30, 2014, the outlook appeared grim for cities in northwestern Madagascar. Tropical cyclone Hellen spun offshore, gaining strength with surprising rapidity and with a track destined to bring it ashore. The day started with the storm being the equivalent of a Category 2 storm with winds of 170 kilometers per hour (100 miles per hour or 90 knots). Twelve hours later, winds reached 240 kilometers per hour (150 miles per hour or 130 knots), making it a strong Category 4 storm.
The Moderate Resolution Imaging Spectroradiometer (MODIS) on NASA's Terra satellite acquired this image of Cyclone Hellen at 7:20 UTC on March 30 in the middle of the storm's rapid intensification. The storm had a distinct open eye and a classic tight circular shape. Its outer bands were already over northwestern Madagascar. Read more
NASA image courtesy Jeff Schmaltz, LANCE/EOSDIS MODIS Rapid Response Team at NASA GSFC. Caption by Holli Riebeek.