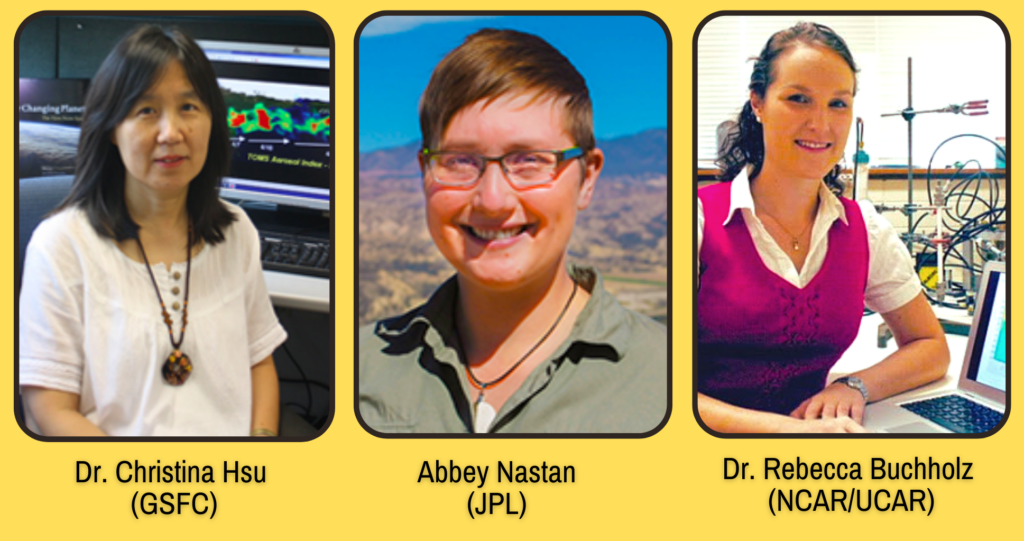 With Terra's 25th Anniversary only two years away (December 2024), we're kicking off the celebration early in our News and Events section with a new series highlighting some of Terra's researchers, data users, educators, and science communicators. We're especially excited to promote current and proposed research that uses Terra data in unique or novel ways! (Do you know someone who's made important contributions to the Terra mission? Or a groundbreaking Terra study that you feel made a substantial impact in the fields of earth science or remote sensing? We'd love to feature them – email us your ideas!)
Our first post in this series highlights three trailblazing women at NASA who have contributed to Terra's scientific legacy, while showcasing the collaborative efforts among scientists at Goddard, JPL, and NCAR/UCAR. Check out their stories below!
---
Dr. Nai-Yung Christina Hsu (GSFC)
Dr. Christina Hsu, a researcher from GSFC, has incorporated data from many of Terra's instruments into her research. Most notably, in 2004, she developed a Deep Blue algorithm for MODIS data that better characterizes aerosol properties over deserts and urban areas. (Read the groundbreaking article here!)
More recently, Dr. Hsu collaborated with a team studying regional differences in air pollution reductions, due to the global COVID-19 lockdowns of 2020. She used datasets from MODIS and MISR (two instruments on Terra) to analyze aerosol optical depth (click the link to learn more!). Learn more about Dr. Hsu's research using this link, and access the full article here!
---
Abigail (Abbey) Nastan (JPL)
Check out this recent Earthdata feature of our own MISR instrument Applications and Communications lead, Abbey Nastan! This summary gives an overview of the diverse portfolio of projects that Abbey is currently working on, including MERLIN – a unique visualization tool that leverages the MISR Plume Height Project dataset, giving new life to "old-er" data.
For more information on the MERLIN tool and how it was made, download this PDF.
---
Dr. Rebecca Buchholz (NCAR/UCAR)
Meet Dr. Rebecca Buchholz, a MOPITT Project Scientist who has worked at NCAR/UCAR since 2014 and has used MOPITT's carbon monoxide dataset to study long-term patterns of air pollution transportation, especially that associated with wildfires. In a Scientific American news article last month, Dr. Buchholz summarized her recent research findings (published in Nature Communications) that show a significant increase in Western U.S. wildfire air pollution during the month of August, a new peak that largely negates California's efforts to reduce annual air pollution. (She also gave Terra's long data-record a shout-out!)  Read more about her research here!