Featured Terra Image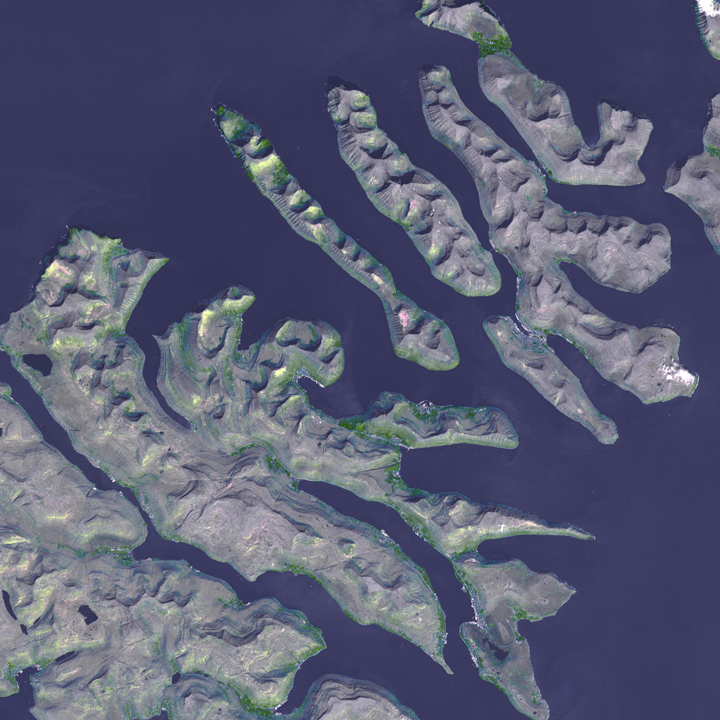 Faroe Islands
The Faroe Islands is an archipelago and autonomous country within the Kingdom of Denmark, comprising 18 major islands. Located 320 km north of Scotland, the islands were first settled in about the 5th century. The population of about 50,000 is almost completely economically dependent on fishing. The islands are entirely volcanic in origin, and were more recently (geologically speaking) sculpted by numerous glaciers, leaving aretes, cirques, and tarns. The image of the northern part of the Islands was acquired June 6, 2007. It covers an area of 37 by 38.5 km, and is located at 62.2 degrees north, 6.7 degrees west.
This image was aquired by the Advanced Spaceborne Thermal Emissions and Reflection Radiometer (ASTER) instrument. ASTER captures high spatial resolution data in 14 bands, from the visible to the thermal infrared wavelengths, and provides stereo viewing capability for digital elevation model creation. It is considered the "zoom lens" for Terra.
Image and caption courtesy of NASA/GSFC/METI/Japan Space Systems, and U.S./Japan ASTER Science Team
Hello, World!
Terra: the EOS Flagship
Terra explores the connections between Earth's atmosphere, land, snow and ice, ocean, and energy balance to understand Earth's climate and climate change and to map the impact of human activity and natural disasters on communities and ecosystems.
Terra Instruments
Terra collects data about the Earth's bio-geochemical and energy systems using five sensors that observe the atmosphere, land surface, oceans, snow and ice, and energy budget. Each sensor has unique features that enable scientists to meet a wide range of science objectives. The five Terra onboard sensors are:
ASTER, or Advanced Spaceborne Thermal Emission and Reflection Radiometer
CERES, or Clouds and Earth's Radiant Energy System
MISR, or Multi-angle Imaging SpectroRadiometer
MODIS, or Moderate-resolution Imaging Spectroradiometer
MOPITT, or Measurements of Pollution in the Troposphere
Because Terra's five sensors share a platform, they collect complementary observations of Earth's surface and atmosphere. These varying perspectives of the same event can yield unique insights into the processes that connect Earth's systems.