Approximately the size of a small school bus, the Terra satellite carries five instruments that take coincident measurements of the Earth system:
Terra is in a circular sun-synchronous polar orbit that takes it from north to south (on the daylight side of the Earth) every 99 minutes.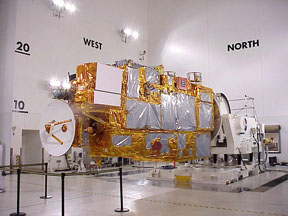 Spacecraft Quick Facts:
Launch Date: December 18,1999
Size: the spacecraft bus is 6.8 m long and 3.5 m across.
Weight: 5,190 kg (11,442 lbs.) at launch.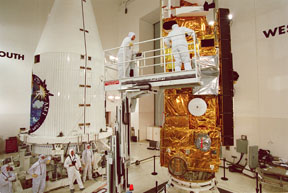 Orbit Quick Facts:
Altitude: 705 kilometers (438 miles) above Earth's surface
Inclination: 98.5 degrees
Period: 99 minutes (14 complete orbits per day)
Ground track repeat: 16 days
Equatorial crossing: 10:30 a.m., descending mode
---
Terra Status:
Operating instruments: ASTER, CERES, MODIS, MISR, and MOPITT are operating well.  ASTER Short Wave Infrared (SWIR) data is unavailable.
Current systems issues: None.
Processed Terra data are available through several NASA data centers.
Current life expectancy: Terra  has far exceeded its design life and has a strong chance of operating successfully into the early 2020s. Terra began drifting in February of 2020. Read more about Terra's drifting or see key dates below.
Key dates of Drift
Exceed 10:30 MLT (+/- 1 min) – April 2021*
Exceed 10:15 MLT – October 2022*
Constellation Exit – October 2022*
Exceed 9:00 MLT – December 2025*
Passivation dates are not yet determined, but passivation is expected to take place due to signal to noise limits from lower solar zenith angles, limited battery power from changing solar angle on the solar panels, or programmatic funding limits.
*Dates are subject to change.