Featured Terra Image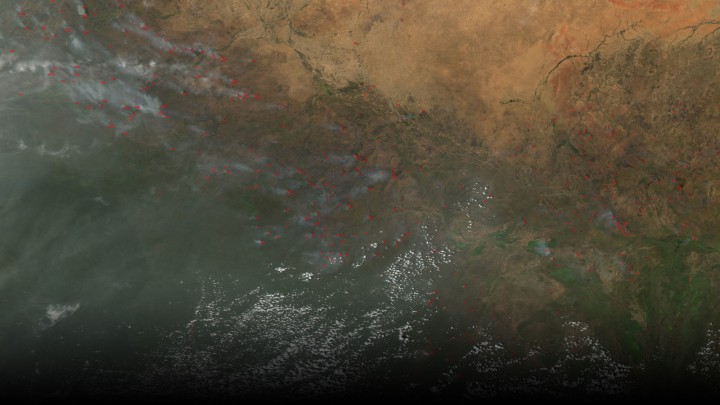 In Africa, More Smoke Leads to Less Rain
A new study is the first to use satellite observations to look at how smoke affects rainfall. Specifically focusing on agricultural fires in North Africa that reduce the amount of rainfall during the dry season.
African agricultural fires, a major source of fires globally, are used to increase agricultural productivity and clear land for farming.  Large plumes are formed by these fires, impacting weather and precipitation patterns, while carrying nutrients to land and ocean regions downwind.
Using satellite data from three NASA satellites from varying passover times along with weather records, Michael Tosca and his colleagues from NASA's Jet Propulsion Laboratory in Pasadena, California, assessed how microscopic smoke particles affect the formation of clouds and rainfall in Africa, north of the equator and south of the Saharan Desert.
Using images of smokey areas taken by  the Multi-angle Imaging Spectroradiometer instrument (MISR) on-board Terra from 2006 to 2010, Tosca and his colleagues were able to match "each smoky image with a smoke-free scene in statistically identical weather conditions." From this information they compared the changing cloud cover throughout the day, using data from Tropical Rainfall Measuring Mission (TRMM) and Aqua, which pass over the same region at later times in the day.
Clouds need small airborne particles, aerosols, to act as a nucleus on which water vapor can condense and form clouds. Black carbon, a common aerosols in African fires, absorbs radiation from the sun and heats up the surrounding air.  When a layer of this soot-filled warm air forms, rising air from Earth's surface is blocked by the warm layer, causing air from Earth's surface to spread out horizontally. Rain clouds are produced from air moving up in updrafts and then condensing and falling, a process called convection.  When the air cannot penetrate the soot-filled layer, rain cloud formation is suppressed. "The researchers found that less cloud cover built up throughout the day in smoky scenes than in scenes without smoke."
The NASA press release is available online at:
http://www.jpl.nasa.gov/news/news.php?feature=4681
The study is available online at:
http://onlinelibrary.wiley.com/doi/10.1002/2015GL065063/full
Hello, World!
Terra: the EOS Flagship
Terra explores the connections between Earth's atmosphere, land, snow and ice, ocean, and energy balance to understand Earth's climate and climate change and to map the impact of human activity and natural disasters on communities and ecosystems.
Terra Instruments
Terra collects data about the Earth's bio-geochemical and energy systems using five sensors that observe the atmosphere, land surface, oceans, snow and ice, and energy budget. Each sensor has unique features that enable scientists to meet a wide range of science objectives. The five Terra onboard sensors are:
ASTER, or Advanced Spaceborne Thermal Emission and Reflection Radiometer
CERES, or Clouds and Earth's Radiant Energy System
MISR, or Multi-angle Imaging SpectroRadiometer
MODIS, or Moderate-resolution Imaging Spectroradiometer
MOPITT, or Measurements of Pollution in the Troposphere
Because Terra's five sensors share a platform, they collect complementary observations of Earth's surface and atmosphere. These varying perspectives of the same event can yield unique insights into the processes that connect Earth's systems.